AUDIO GUIDE TOUR
Now available both in English & en Español
Discover the fascinating Jewish History of Palma in 3 easy steps
1.

 Download for free Voice Map's app
2.

Register
3.

Enjoy our Audio Guide Tour

here
About the tour
Whether this is your first time in Palma's old town or you're familiar with its maze of medieval streets, there's plenty to discover on this audio and GPS guided walking tour.
Together we'll explore the legacy of this Mediterranean island's dark history. It'll lead us through the twists and turns of narrow alleyways to all sorts of architectural gems.
You'll meet famous mapmakers, figure out how to decipher street names, and peer into Palma's famously elegant courtyards, which are easily missed. If anyone ever told you that history is boring, they've never studied the history of the Palma's Jewish Quarter!
On this tour you'll hear about:
• Secret synagogues
• The 1391 Massacre
• Forced conversions
• The fifteen Chueta family names
• Surviving the Black Plague
• The scandalous Tower of Love
• Hidden Hebrew letters
• The Church of Mount Zion
• Crypto-Jewish traditions
• Where the word "abracadabra" comes from
New discoveries with clues to the island's traumatic past are still being made today. But the Inquisition left its mark in more than just stones & walls – you'll learn about certain members of Mallorquin society who were marginalized up until the middle of the 1900s because they had specific last names that traced their Jewish roots.
Don't miss your chance to engage with a unique chapter of history – both of Mallorca and of Judaism.
Juan Antonio Caldes Rodriguez wrote the script for this tour. His invaluable input and dedication enabled this wonderful tour to come to fruition. Thank you Juan!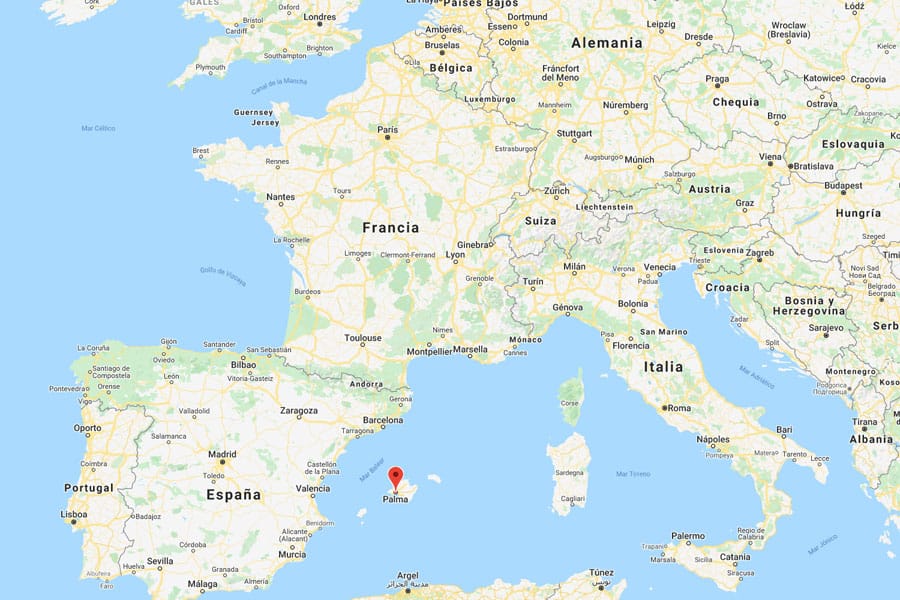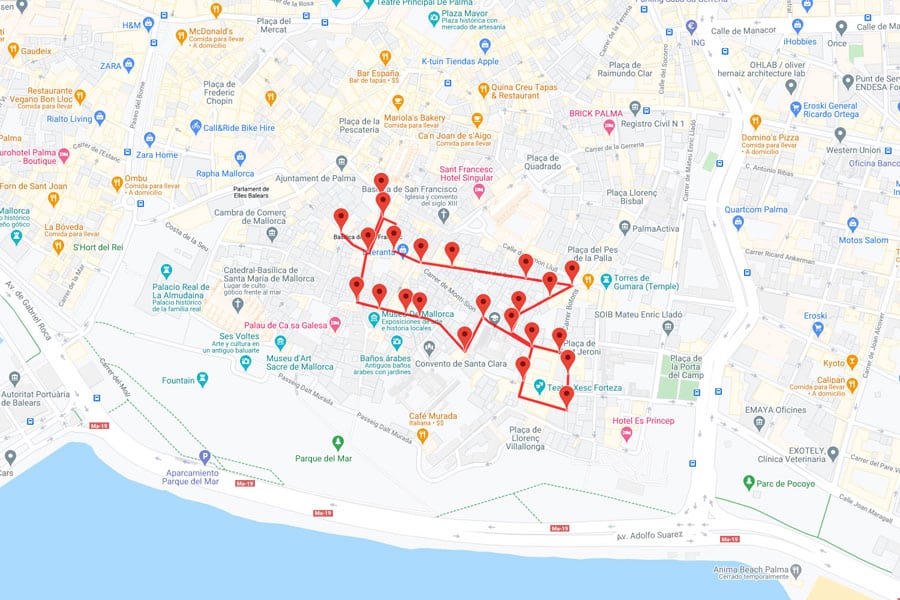 Descubre la fascinante historia judía de Palma en 3 sencillos pasos
1.

 Descarga de forma gratuita la app Voice Map
2.

Regístrate
3.

Disfruta nuestro Tour con Audio-Guía 

aquí
Acerca del tour
Da igual si es tu primera vez en el casco antiguo de Palma o ya conoces bien el laberinto de estas calles medievales, todavía hay un montón por descubrir y lo puedes hacer con esta Audio-Guía.
He estudiado la historia de las comunidades de los conversos y Chuetas de Mallorca, desde que llegué aquí en 2014 y tengo un montón de secretos y sorpresas escondidas para compartir con vosotros. Para empezar, el significado de las palabras Converso y Chueta. Ven conmigo a este Tour guiado para descubrirlo.
Juntos vamos a descubrir el lado oscuro del legado de esta isla del Mediterráneo. Esto nos llevará a través de los callejones estrechos a todo tipo de joyas arquitectónicas.
Conocerás famosos cartógrafos, aprenderás cómo descifrar los nombres de las calles, y echaremos un vistazo a los famosos y elegantes patios de Palma, los cuáles son muy fácil que pasen desapercibidos.
Si alguna vez alguien te han dicho que la historia es aburrida eso significa que nunca ha estudiado la historia del Barrio Judío de Palma!
En este Tour descubrirás:
• Sinagogas Secretas
• La masacres de 1391
• Conversiones Forzadas
• Los quince nombres de las familias Chuetas
• Supervivencia de la Peste Negra
• El escándalo de la Torre del Amor
• Hidden Hebrew letters
• La iglesia de Monte Sion
• Tradiciones cripto-judias
• Etimología de la palabra "abracadabra"
A día de hoy aún descubrimos las relaciones con el traumático pasado de la isla ya que la inquisición ha dejado su huella bien marcada. En el barrio judío medieval descubrirás sobre los miembros de la sociedad mallorquina que fueron marginados hasta mediados de 1900 por tener según que apellidos.
No pierdas tu oportunidad para aprender sobre el único capítulo de la historia de Mallorca y del judaísmo.
Denisse fue quien escribió este guión para esta ruta. Su participación y dedicación inmensurables han hecho posible este magnífico Tour tan fructífero.
Gracias Denisse!
Joshua Gunsberger
What an amazing walk-and-listen experience! Dani our guide was so genuine and his passion for such an amazing story made this tour fascinating. His pivot to offering incredible audio guided tours is unlike anything I have ever listened to before and is a cultural breath of fresh air!
Eric A. Heilig

This tour was amazing. The route showed us a side of Mallorca we did not know about. It was very interactive, fun and engaging and gave us a lot to think and talk about, something we do still up to today. Thank you for showing us this part of Jewish History and we can't wait to return and explore more of it. We couldn't recommend this audio guided tour more highly to anyone trying to do something very special during their stay on Mallorca.
Patrick Y

Smart, engaging, fascinating, interactive and so much history, experience and storytelling wrapped into this tour! Dani brings the history to life in an accessible way for anyone, so I couldn't more highly recommend this!