Experience Options
Tours and Experiences are based on 2 hours or 4 hours or 6 hours. Experiences are available in English, Spanish, Catalan, German, Italian, and French.

What you'll Need
* Comfortable Shoes
* Open Mind
* Desire to Connect
and Discover
NOT JUST A HISTORY TOUR
We offer an interactive learning experience that engages both visitors and residents alike and sparks further curiosity.
We also create space for dialogue between people from any background to learn together about the richness and diversity of Jewish history and culture. By offering a walk-and-talk experience with members and friends of the local active Jewish community today – visitors get to see the past, present, and hopefully the future from another point of view.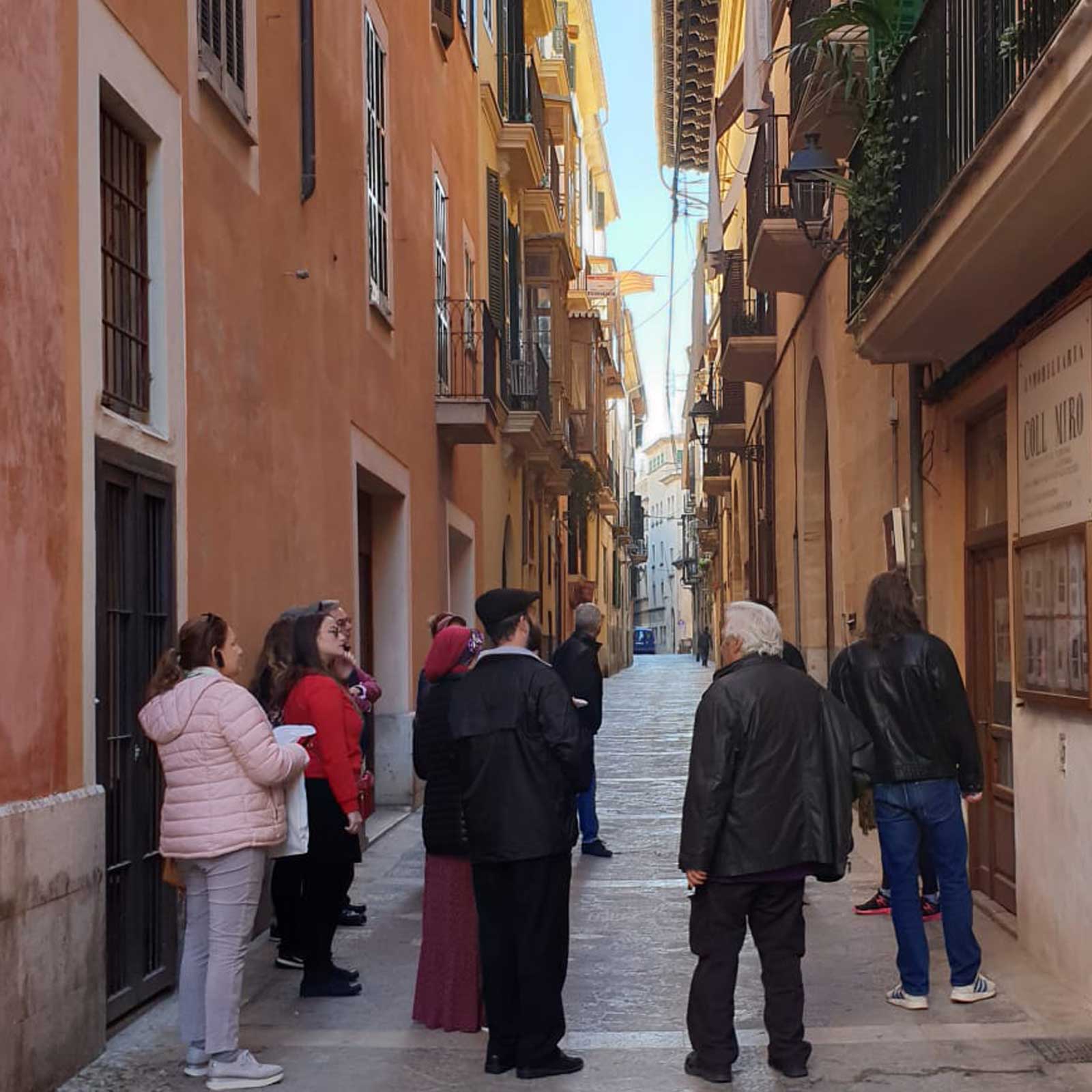 The Highlights Tour (2-hours)
Journey to the heart of the old Jewish Quarter
Your private guide will take you to the must-see sites of the city center. We start at the statue of Jafuda ben Cresques, a 14th century Jewish cartographer who made the world-famous Catalan Atlas map that Christopher Columbus might have used in his travels. We will walk down Leather Maker Street and learn about the old bakery named Can Miquel that up until recently was still in use and is known to be built on the site of the "sinagoga nova" or the "new synagogue."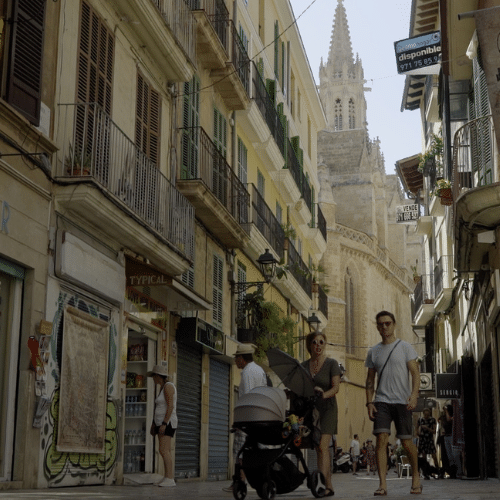 The Half Day Experience (4-hours)
Hear the stones whisper hundred of years of history
Our cultural walk and talk experience starts in the old town in the Jewish Quarter Interpretation Center on Carrer del Almudaina, which is next to the entry point to the old Jewish Quarter, which dates back to the Muslim era of Mallorca, the Call Major.
The term "Call" is in Catalan and means the same thing as "Juderia" in Castellano.
Whenever you visit Jewish Quarters in and around Catalan-speaking regions of Spain such as the Balearics, Valencia, and Barcelona you may see the signs "Carrer de Call" or "Street of the Jewish Quarter."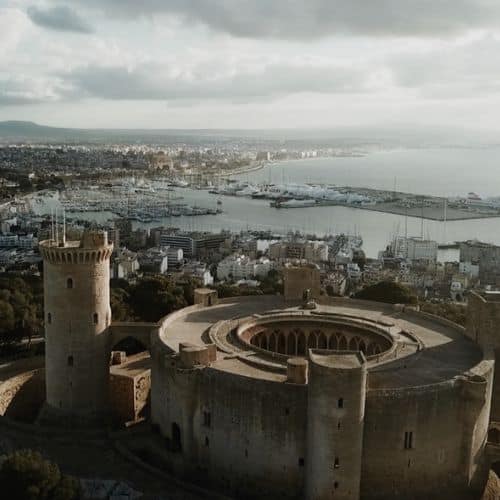 The Full Day Experience (6-hours)
Discover the Crypto-Jewish contributions to modern society
The Spanish island of Mallorca was home for hundreds of years to a thriving Jewish community where Jews played a pivotal role in cartography before having to go underground with the rise of the Spanish Inquisition in the 14th and 15th centuries.
Many Jews faced forced conversions, becoming Crypto-Jews, who displayed their Catholic face outwardly while adhering to their Jewish faith through secret signs and hidden synagogues in their homes.
Entrance to other attractions or museums not included in the tour, art galleries, boat rentals, bike rentals
Breakfast, lunch or dinner costs
Any extra requests
We also can adapt the length of the experience/tour to your particular needs.
Jessica Hendricks Yee
This tour was outstanding! Dani is so incredibly knowledgeable, and so passionate that you can't help but feel deeply passionate about the Jewish history on the island too. The island has a wild secret history, with important stories that need to be shared. I'm so grateful to Dani for creating this tour and keeping this history alive. Fabulous for anyone, I'd definitely recommend it!
Gabriela Overdorff-Ferriol
Teacher at Escola Global in Majorca
Bringing my History students on this tour is always a major highlight of the year. They develop a layered historical lens on Palma and its Jewish history and have fun discovering things they've never noticed before. Dani is a funny, knowledgeable and enthusiastic guide and I highly recommend this tour!
Ellie Eisenberg

The tour, delving into the Jewish history of Palma is both interesting & interactive. Our guide (Dani) is knowledgeable and full of passion, which is clearly reflected in the engaging way he leads the tour. He also injects humor and wit during the walk, while adapting to the groups age & ability – making this suitable for all who want to join. I highly recommend a tour with Jewish Mallorca for anyone & everyone who is interested in Palma, it's beautiful streets, wonderful atmosphere & fascinating history.
Moira Taubenfeld

Our group of 4 hired Dani to show us around Mallorca for 3 days, which included the Jewish tour. Dani is a true professional eager to share his knowledge through extensive research that he's done on his own of the (obscure) Jewish history in Mallorca. We learned so much! I highly recommend this tour! Dani's delivery is very entertaining, and kept our interest at all times.
Carol Goldberg

Dani, was such a treat! The day totally surpassed our expectations. He was personable, knowledgable, engaging,entertaining, and kept our interest with challenges to enhance the experience. He is a real mensche!! He helped bring the history alive, and gave us such an understanding of it. If you are there, don't miss this!! Best on luck in your endeavors to further build the Jewish community in your home.